There are times in my life when I just need to bake.  As in, if I don't break out some flour and sugar I might just have a meltdown.  Strangely enough, those moments seem to come when we are really busy or I'm not feeling 100%.  I guess baking is such a stress reliever that that's what I fall back on to bring inner peace and well-being. 🙂
Personally, I found out that Buttermilk Blueberry Breakfast Cake is especially good if you or your loved one is sick – it makes you feel better immediately!
This blueberry cake is fluffy, sweet, slightly dense, a little spongy, and all-around perfect.  This truly didn't last long in our kitchen and I can promise that it probably won't last long in yours, either. 🙂  It comes together quickly and easily and the reward is a delicious "bread"(cake) that you can eat for breakfast!
I came across a photo of this delicious bread and knew instantly that I wanted to make it. I also knew that it wouldn't be eaten only for breakfast.  I would eat it for dessert, for a snack, and we would just…eat it.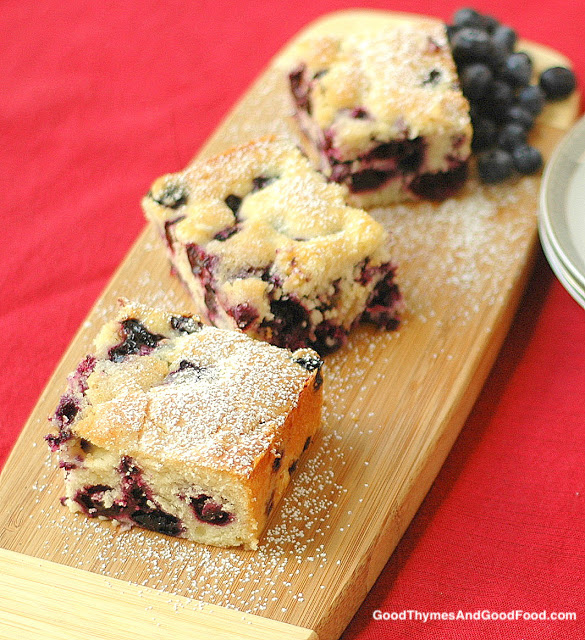 Ingredients
½ cup unsalted butter, at room temperature
2 tsp. lemon zest, zest from about 1 large lemon
1 cup + 1 tbsp. sugar
1 egg, at room temperature
1 tsp. vanilla
1 tsp. lemon juice
2 cups all-purpose flour
2 tsp. baking powder
1 tsp. Kosher salt
2 cups fresh blueberries
½ cup buttermilk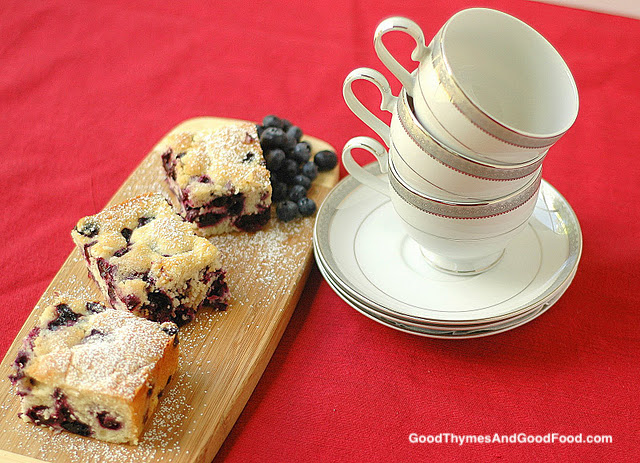 Directions
Preheat the oven to 350º F and lightly grease a 9×9 cake pan.
In the bowl of an electric mixer, cream butter with lemon zest and 1 cup of sugar until light and fluffy, 2-3 minutes. Scrape down the bowl. Add in the egg, vanilla, and lemon juice and mix until combined.
In a medium bowl, toss the blueberries with ¼ cup of flour. Set aside. In another medium bowl, whisk together the remaining flour, baking powder, and salt.
Add the flour mixture to the batter in 3 additions, alternating with the buttermilk, beginning and ending the dry ingredients. Fold in the blueberries.
Spread batter into prepared pan. Sprinkle batter with the remaining tablespoon of sugar. Bake for 40 minutes. Check with a tester for doneness and if necessary, return pan to oven for 5-10 more minutes. Let cool at least 15 minutes before serving.