If you have some bananas or sour cream that are about to go bad, make some Banana Blueberry Sour Cream Muffins! Basically, you can use any berries, I suppose, but I tried the blueberries, and muffins were delicious!! They were so moist and flavorful, and if you will add cinnamon & sugar, you'll get a real treat.
You must to eat them fresh, as it is super good, but you can also freeze some and use them later for easy breakfast or to take in a trip – a nice tip, right?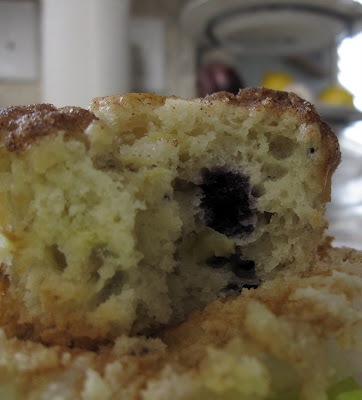 Banana blueberry sour cream muffins Ingredients
For muffins:
2 cups all-purpose flour
2 tsp. baking powder
1/2 tsp. salt
1 cup sugar
1 egg
1/4 cup melted unsalted butter
3/4 cup sour cream
1/2 cup mashed bananas
1 cup fresh or frozen blueberries
1 tsp. vanilla extract
For topping:
1/4 cup melted butter
1/2 cup (or so) sugar
1/4 tsp. ground cinnamon
You'll also need: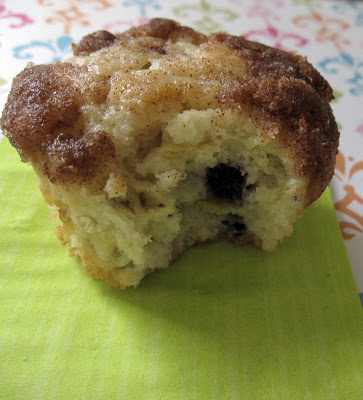 ---
Directions
Always use all ingredients room temperature.
Preheat the oven to 350 degrees F (180C).
Grease the muffin tin or line it with baking cups.
In a large bowl, whisk flour, baking powder, and salt together. Set aside.
In a separate bowl, lightly whisk the egg and add sugar.
Continue whisking until thick. Add the melted butter in two or three additions.
Whisk in the sour cream in two additions, then add mashed banana.
Add the vanilla.
Make a well in the center of the dry ingredients and add the wet ingredients; gently fold with a spatula. Before everything is mixed, carefully fold in the blueberries being careful not to over mix.
Divide the batter between the muffin cups.
Bake for 25-30 minutes, or until a cake tester comes out clean and the tops are lightly golden.
While the muffins are still warm, dip the tops in the melted butter and then into the cinnamon and sugar.
Let cool completely on a rack.