GoodThymesAndGoodFood is an ode to food from us – a couple who is travelling around the world and simply love good food, local products, spices, sweets, diversity of flavors and feel like you gonna die…so much you ate! Ha-ha!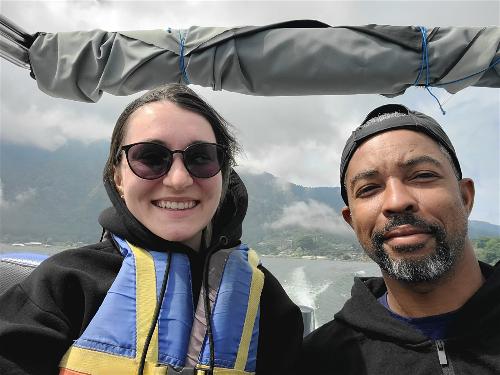 I'm Masha and I'm an abstract artist my favorite food are pickles, potatoes, pasta, and all sorts of sweets. This is actually why I posted a Baking recipes cookbook featuring 131 recipes you can do in less than 60 min. Can you already smell some cakes baking? Grab it for free with Kindle Unlimited!
My partner – Carlos aka ABrotherAbroad – loves everything related to a good steak, but also good Mexican, Argentinian, Thai and Vietnamese food.
We both adore high-quality sushi, butter chicken, and…carrot cakes! The best one was found on a remote Gili Island in Indonesia, in the restaurant called JALI – I swear you will crave this cake at night.
Well, it seems like we love all cuisines and we do! This blog is our resource for ourselves and our readers to share easy, and not so much, recipes. I hope you like them!
Please dig in and enjoy recipes from all categories!